Chief Instructor James (Jim) Hewes, A-5-1 UITF
Jim has been studing martial arts for over 20 years. He first began his journey into the martial arts at the Delaware Institute of Martial Arts in Clayton, Delaware. His primary style has been ITF Taekwon-do and has evolved to cross train in many other avenues. Jim currently holds his 5th dan in Taekwon-do and trains under Grand Master Hwang in Hartford, CT. The other styles Jim has trained in include, but are not limited to, judo, sambo, brazillian jui-jitsu, Philipino and Korean stick fighting, and boxing. Jim has been an assistant instructor at several former schools prior to their disemblance. The current opportunity to run his own school has allowed him to bring about new concepts and ideas into teaching the martial arts. Also it allows him to give back to the community in which he was born and raised in and is thankful for the opportunity.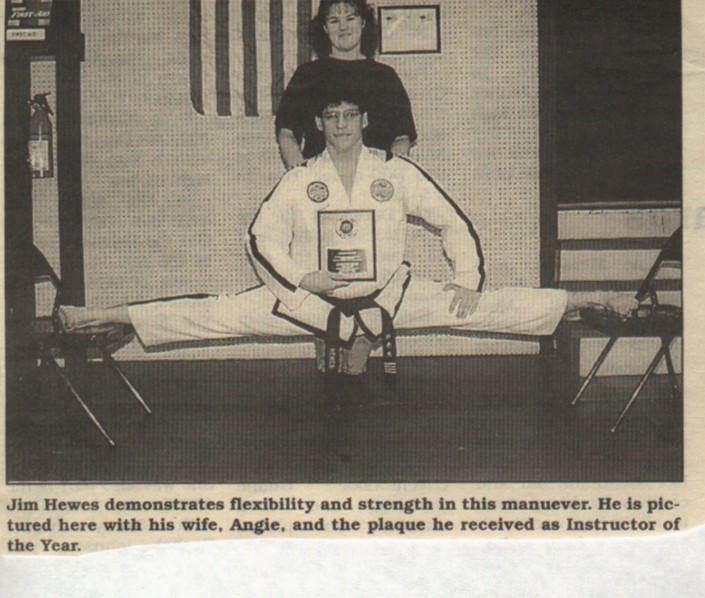 Personal Info - Jim is a Smyrna native and graduate of Smyrna High School in 1991. He attended Delaware State University and received a B.S. in Wildlife and Fisheries Management with minors in biology and history. He recently completed a Master's of Biology Education at DSU. Jim was employed as an environmental scientist with the DNREC, Coastal Management Program where he oversaw the shorebird monitoring program. For the past 8 years Jim has had a change of career and has begun influencing the future by becoming a 7th grade science teacher in his home town at Smyrna Middle School, DE.

Jim's wife and business partner, Angie, is a business teacher at Smyrna High School. Angie is the business manager for FDTKD and assists with the school's community service activities. She also has completed a Masters of Instruction with a focus on technology from the University of Delaware, become a Nationally Certified Teacher and was named the 2007 Smyrna High School Teacher of the Year.

For a more detailed resume of Mr. Hewes click here.